products
painted steel table system
overview
resources
sustainability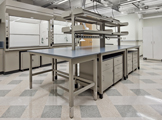 steel table system
welded strength
Our Cambridge Series steel tables are fully welded providing the strength and stability needed to support heavy loads. Tables are a cost effective furniture system that lab personnel can reconfigure quickly and efficiently. Our tables can be used with casters or leveling feet depending on the need for mobility and are available in a variety of fixed or adjustable heights. If required, cabinets and shelving can be added and also relocated to create versatile workstations. Let us help you select the Cambridge Series table that best fits your lab needs.
cambridge series tables | view all
Product Specifications

Title
Size
Download
MyPortfolio
Cambridge Series Table System Specifications
37 kb
[+]

Corporate Literature

Title
Size
Download
MyPortfolio
Lab Furniture System Selector Guide
680 kb
[+]

Catalog Sections

Title
Size
Download
MyPortfolio
Mott Table Catalog Section R
1.57 mb
[+]
Mott Vibration Isolation Table Page R14
133 kb
[+]
Mott Wood Suspended Cabinet Catalog Section M
654 kb
[+]
NEL Table Systems Catalog Pages
1.65 mb
[+]

New England Lab's "Cambridge Series" painted steel tables have been designed and constructed with materials that are laboratory grade and are highly recyclable.
Painted steel consists of 32.7% recycled content:
25.5% post consumer which can contribute to LEED credit MR4
6.8% pre-consumer which can contribute to LEED credit MR4.
Systems solutions that maximize mobility and adaptability creating a user friendly, long life-cycle laboratory.
Durable, high-quality surface protection with minimal waste and Zero VOC's.
Durability that meets and exceeds SEFA 8 performance standards, to provide an even longer product life cycle.