products
epoxy resin sinks
overview
resources
families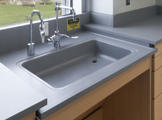 epoxy resin sinks
chemical resistant, non-flammable
Durcon epoxy sinks are molded monolithic epoxy resin products. Our unique molding process includes a special curing stage that ensures a complete chemical reaction throughout the material resulting in a uniform worksurface of the highest quality.
Epoxy resin is the sink choice for harsh laboratory, classroom and research environments because of the material's outstanding chemical resistance, durability, non-flammibility, and non-absorbancy.
Rapid Ship available!
In-stock sinks ship in 5-7 business days.

Cut Sheets

Title
Size
Download
MyPortfolio
American Epoxy Scientific Sink Sizes
291 kb
[+]
Durcon Cupsink Sizes
517 kb
[+]
Durcon DropIn Sink Sizes
406 kb
[+]
Durcon Undermount Sink Sizes
261 kb
[+]

Catalog Sections

Title
Size
Download
MyPortfolio
Durcon - Epoxy Product Catalog
9.33 mb
[+]
Rapid Ship Catalog - Work Surfaces & Sinks
264 kb
[+]