products
epoxy resin sinks
overview
resources
families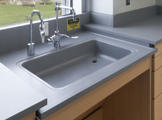 epoxy resin sinks
chemical resistant, non-flammable
Created from monolithic epoxy resin, these sinks are the popular choice for harsh laboratory, classroom and research environments because of their durable characteristics. Sinks are available as undermount or drop-in style.
Chemical Resistant
Durable
Non-flammable
Non-absorbent

Choose the same color sink as your work surface for a uniform look!
Rapid Ship available!
In-stock sinks ship in 5-7 business days.

Cut Sheets

Title
Size
Download
MyPortfolio
American Epoxy Scientific Sink Sizes
291 kb
[+]
Durcon Cupsink Sizes
517 kb
[+]
Durcon DropIn Sink Sizes
406 kb
[+]
Durcon Undermount Sink Sizes
261 kb
[+]

Catalog Sections

Title
Size
Download
MyPortfolio
Durcon - Epoxy Product Catalog
9.33 mb
[+]
Rapid Ship Catalog - Work Surfaces & Sinks
264 kb
[+]