products
standard stainless sinks
overview
details
options
resources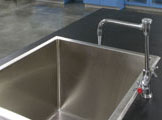 standard stainless sinks
clean, durable
New England Lab offers a selection of drop-in or undermount stainless steel sinks for use in non-stainless worktops. Stainless sinks are clean and durable for your lab. Contact a New England Respresentative to learn more about stainless steel sinks for your lab.
Rapid Ship available!
In-stock sinks ship in 5-7 business days.

Stainless steel sinks are available in Drop In, Drop In with Ledge Back, and Undermount styles in all shapes and sizes. Our manufacturers use high quality type 304 or 316 stainless steel to meet your lab requirements for corrosion resistance.
Ask about special features like the Integra fully welded drain system from Just Manufacturing which deters bacterial growth!
Drop In
Drop in with Ledge Back
Undermount
Mechanical drain connection
Integra drain connection by Just Manufacturing
18 guage construction
16 guage construction by Just Manufacturing