project portfolio
case study
featured products
JOB NAME: Casco Bay High School | Science Lab
ARCHITECT: PDT Architects
CONTRACTOR: DiMatteo Construction Management Services, LLC
Casco Bay High School, located in Portland Maine, was looking to renovate and update one of their chemistry classrooms. Plain sliced maple veneer fixed, wall and mobile cabinets by New England Caseworks were placed along the perimeter of the space. Custom height-adjustable maple tables were provided for the center of the room which can be reconfigured to fit specific classroom needs.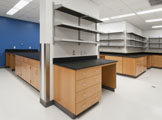 wood veneer casework
Natural cabinets providing classic warmth and comfort to your lab.