project portfolio
create a portfolio to save your resources
case study
featured products
JOB NAME: Jnana Therapeutics | 6 Tide Street
ARCHITECT: Jacobs
CONTRACTOR: PIDC Construction
To remain at the forefront of chemo proteomics drug discovery, Jnana Therapeutics has built a new state-of-the-art facility utilizing 15,000 sq. ft. of a 3rd floor space at 6 Tide Street, Boston, MA. Their new headquarters are equipped with biology, chemistry, and tissue culture labs to further contribute to the discovery of conventional medicines. New England Lab was chosen to supply White Maple rotary-cut wood veneer casework with charcoal grey epoxy resin work surfaces. Pre-plumbed and pre-wired Altus freestanding benches easily plug into the provided ceiling service panels to allow for flexible lab furniture reconfigurations. Epoxy pegboards, under-mount epoxy sinks, and worktops with marine edge were provided at the fixed sink stations. Bench-mounted fume hoods provide additional safety for more hazardous applications.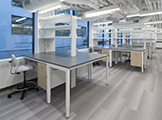 An economical version of the Optima bench featuring simplified styling that allow for great cost savings.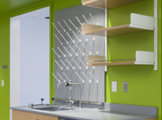 Epoxy drying racks in color combinations to suit your lab.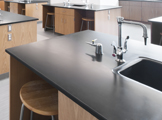 Chemical resistant epoxy work surfaces in a variety of colors.