products
nanotech matt tops
overview
details
options
resources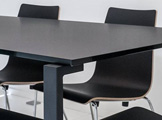 innovative
durable, resistant
The external work surface of FENIX NTM® involves the use of nanotechnology and it is characterized by next generation acrylic resins, hardened and fixed with an Electron Beam Curing process. It's available in thin laminates and solid sheets up to ½" thick. This innovative engineered material is very difficult to scratch and has numerous other benefits.
Maximum scratch resistance
Self-healing scratches
Thermal healing scratches
Low light reflectivity
Anti-fingerprint
Soft touch
Dry heat resistant
High resistance to acid solvents and household reagents
Enhanced anti-bacterial properties
Foodsafe

Suitable for
Healthcare
Work surfaces
Furniture
High Resistance
to acid solvents
& reagents

Resistance to
scratches &
abrasion

Thermal healing
of micros


Anti-fingerprint



Low light
reflectivity


Enhanced
anti-bacterial
properties

Mold resistant



Anti-static



Hygienic



Suitable for
contact with food


Dimensional
stability even
with high temps

Easy to clean



Color stable



Water resistant



Color stable



Resistance to
impact


Resistance to
dry heat


Rub resistance



Soft touch


The color range includes a choice of classic timeless colours inspired by nature, pearlescent shades with a superb effect on supermatt surfaces and an exclusive selection of materic expressions.
| | | | | |
| --- | --- | --- | --- | --- |
| Bianco Kos | Bianco Alaska | Bianco Male | Beige Luxor | Castoro Ottawa |
| Zinco Doha | Rosa Colorado | Grigio Londra | Bronze Doha | Blue Delft |
| Gigio Efeso | Doha Titanio | Grigio Bromo | Piombo Doha | Nero Ingo |
Product Brochures

Title
Size
Download
MyPortfolio
Fenix NTM: Nanotech Matt Material for Interior Design Brochure
2.88 mb
[+]