products
novaguard series fume hood
overview
details
resources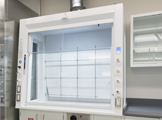 high performance
maximized visibility

Designed to deliver competitive containment performance and energy efficiency, the NovaGuard™ operates with exhaust volumes significantly lower than conventional hoods and has improved sight lines as well.
Face velocities as low as 60 fpm with the sash full open
Flush sill with spill containment trough
Durable chain and sprocket sash system
Self-lowering sash that keeps the sash at 18" if raised above the set point
44-1/2" viewing height
Factory pre-plumbed and pre-wired hood posts
Side alcoves for additional interior space
Optional glass end panels in alcoves
Optional alcove shelving to fully utilize unobstructed work surface
Optional glass back panel with glass baffle
Created for research environments
.


Face Velocities
Tested to both standard and modified ASHRAE procedures at face velocities as low as 50 fpm fully open.
Baffle Design
Downflow rear baffled is biased to the bottom, drawing fumes downward away from the user and counteracts the normal upward flow of vapors and prevents contaminated air build up behind the closed sash. Supplementary mechanical fans not required.
Exhaust System
Suitable for use in either Variable Volume or Constant Volume applications.
Chain Drive Sash
Chain and sprocket mechanism that delivers the easiet and most reliable sash operation available with an exceptionally long life span.
Full Viewing Sash
Provides a clear and unobstructed side to side view of fume hood interior, with a 44-1/2" high viewing area. Rear mounted fixed tinted visor included.
Self-lowering Sash System
Sash latch temporarily secures the sash in full open position for setup and tear down operations. When the lock is freed, the sash automatically returns to the 18" open operational position which offers extra protection tot he operator and helps reduce energy consumption. Below 18" the sash is equally balance.
Flush Sill Airfoil
Low-profile hinged Type 316 powder coated stainless steel airfoil is flush with work surface to provide ergonomic and unobstructed access to the interior. Power cords can be run through the sill to the electrical outlets on the hood posts.
Spill Trough
Designed to provide secondary containment in the event a spill escapes the primary containment work top.
Electrical and Plumbing
Two UL/CSA approved duplex receptacles provided for 120 volt service. Built-in LED lighting and a corner post mounted UL/CSA approved switch provided. Fixture holes are not pre-punched and punched only as ordered (front post can accept four fixtures per side). Factory pre-plumbing is an available option.
Stainless Steel Exhaust Collar
Wide rectangular exhaust duct connection improves airflow distribution across hood width.
* NovaGuard Series fume hood is trademarked and produced by Mott Manufacturing.