products
polypro fume hoods
overview
details
resources
sustainability
families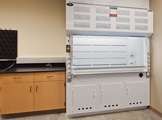 specialty hood
corrosion resistance
The Polypro Series fume hoods are extremely durable and highly resistant to corrosives.
Seam-welded, light-weight thermal plastic construction
No exposed metals
Easily cleanable
Stain resistant
Suitable for acid digestion, saltwater marine biology labs, and other wet and corrosive applications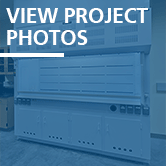 Face Velocities
Designed for 80-100 fpm face velocity
Tested to ASHRAE-110 Guidelines.

Sash Counterbalance System
Cable-driven sash system delivers smooth and reliable operation
Optional chain drive systems

Full Viewing Sash
Provides a clear and unobstructed side-to-side view of the fume hood interior
Up to a 34" high viewing area

Low Profile Airfoil
Flush with the work surface to provide easy access to the hood interior

Extreme Chemical Resistant Liner
Standard polymer liner has maximum strength for chemical and corrosion resistance

Access Panels
Interior access panels
Exterior side panels are also removable for ease of access to plumbing and electrical service fixtures

Electrical Services
Two UL approved duplex receptacles are provided for 120-volt service.
UL approved LED light fixture mounted outside the fume chamber

Duct Collar
Polypro collar connects directly with the building ventilation system

Plumbing Services
The front post is pre-punched to accept up to four plumbing fixtures per side
Factory pre-plumbing of front-loaded remote or rod-driven fixtures is an available option
Our low volume option can result in considerable energy savings by reducing the sash opening size.
An Automatic Sash Operating System can be incorporated that lowers and/or rises automatically which can enhance safety and dramatically increase the efficiency of Variable Air Volume (VAV) systems.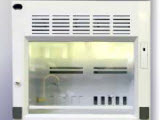 Polypropylene bench mounted hoods allow work to be done at standing or sitting heights and sits conveniently on a 30" deep countertop. This hood provides safety and protection for corrosive applications such as acid digestion, or to processes constantly exposed to water such as beverage, water treatment, or marine biology labs.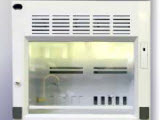 This fume hood is designed to meet ADA requirements for accessibility. With the proper base cabinet configuration the hood services can be within accessibility guidelines. The combination sash also allows for ease of use from a seated position.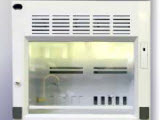 The polypropylene hydrofluoric acid hood sits conveniently on a 30" deep countertop. The all-plastic hydrofluoric acid hood resists corrosion and has a polycarbonate viewing sash that is not etched and clouded by hydrofluoric acid.