products
lab mixing faucets
overview
resources
families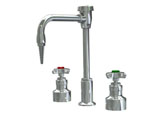 lab mixing faucets
hot and cold
Hot and cold water laboratory mixing faucets are available for a variety of requirements with options for handle types, gooseneck lengths, service shutoffs and volume control.
Wall and panel mounted mixing faucets
Deck mounted mixing faucets
Rigid goosenecks or swing goosenecks
Vacuum breaker options
Serrated tips, aerators and aspirator interchangeable ends
ADA compliant mixing faucets with blade handles
Foot control

*Most fixtures are certified by CSA International to comply with ASME A112.18.1 and CSA B125.1-18. Most fixtures are fully assembled and all are factory tested prior to shipment.
Product Brochures

Title
Size
Download
MyPortfolio
NEL Direct - Rapid Ship Catalog
4.72 mb
[+]

Catalog Sections

Title
Size
Download
MyPortfolio
Rapid Ship Catalog - Fixtures
271 kb
[+]
Watersaver Accessories and Components Catalog Pages 54-56
788 kb
[+]
Watersaver Engineering Information Catalog Pages 1-8
618 kb
[+]
Watersaver Foot-Operated Faucets Catalog Page 20
264 kb
[+]
Watersaver Lab Mixing Faucets Catalog Pages 15-18
1.05 mb
[+]
Watersaver Laboratory Service Fixtures Catalog
18.63 mb
[+]